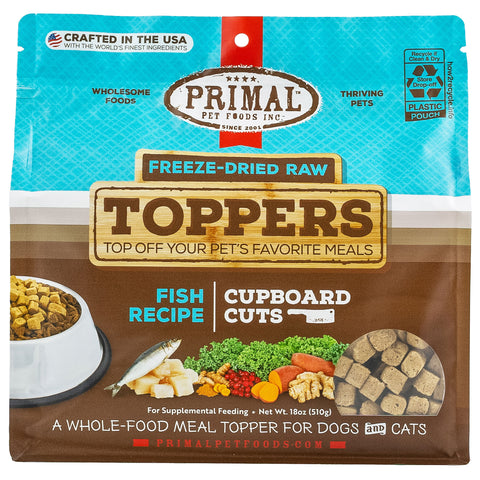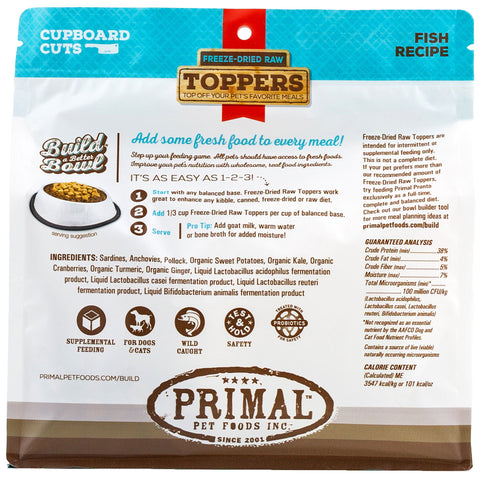 Primal
Primal Cupboard Cuts Fish Dog Food Topper - 18oz
DETAILS
Primal's NEW Freeze-Dried Raw Toppers can top off your pet's meal or be served as a treat! Integrate Primal Cupboard Cuts Fish Dog Food Topper easily into your pet's meals to increase their intake of wholesome, real food ingredients—whether your pet eats canned, kibble, raw, or a mix of all! These shelf-stable, easy-to-use toppers are made with high-quality meats & certified organic produce.
FEATURES AND BENEFITS
Certified organic produce

Shelf-stable & ready to serve! 

Ethically raised

Humanely sourced

Crafted in the USA

Great for both cats and dogs!

18oz resealable bag
SERVING SUGGESTIONS

MEAL TOPPER: Add fresh food to every meal by incorporating Freeze-Dried Raw Toppers. Just scoop, serve over any balanced base, and rehydrate with water, Bone Broth, or Raw Goat Milk for an extra boost of nutritional value!

TREAT: Fill up the treat pouch with Freeze-Dried Toppers, a perfect high-value reward for training & enrichment.

INTERACTIVE TOY: Freeze-Dried Raw Toppers come in bite-sized pieces that can fit into an interactive toy for mental stimulation and activity for your pet.