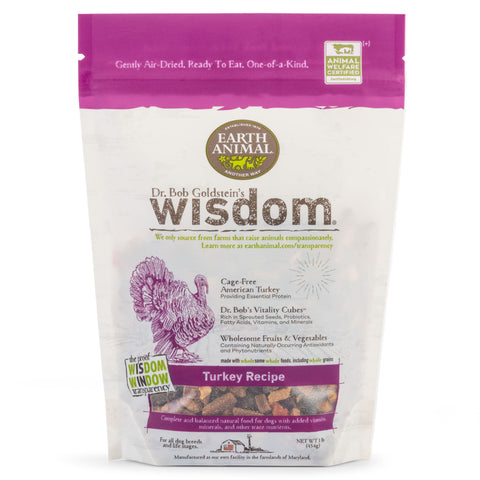 Earth Animal
Earth Animal Wisdom Turkey Dog Food
DETAILS
Earth Animal's Wisdom Cage-Free Turkey Air-Dried Natural Dog Food is crafted in small batches and gently air-dried to maintain vital nutrients and natural flavors. Packed with flavor, a savory aroma, and interesting textures your dog is sure to love!
FEATURES AND BENEFITS
THE WISDOM DIFFERENCE: Earth Animal's 3 components are gently air-dried in small batches to maintain nutrients and natural flavors. Once cooked, the meat, Vitality Cubes, and fruits & vegetables are tumbled together for a flavorful, vibrant, ready-to-eat food

IT'S ONE-OF-A-KIND: It's a ready-to-eat, nutritionally complete & balanced meal. It's a treat, It's a trail mix, Use it for training, use it in a puzzle toy. It's healthy, It's packed with textures, tastes, and aromas, It's the best dog food available

MADE WITH INTEGRITY & INTENTION: Cage-free poultry, no ingredients from China, Made in the USA at their craftory in Maryland. What isn't in the food is just as important: Wisdom is free from corn, wheat, soy, legumes, artificial flavors & preservatives

ANOTHER WAY: Earth Animal is dedicated to enhancing and preserving quality of life for animals, people, and the Earth. We do this by providing another way – a more trusted, humane, and sustainable way to change things for the better, one Earth Animal at a time

Wisdom is fully shelf stable and does not require refrigeration. Please reseal package after each use and store away from direct sunlight. They recommend using within 8 weeks after opening for optimal freshness.