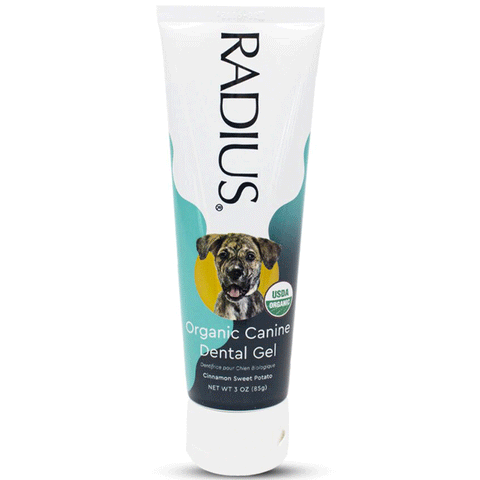 Radius
Radius Organic Dog Toothpaste
DETAILS
Have you noticed a change in your pet's eating habits? How about red gums or stinky kisses? Take preventative steps for your pup with Radius' Organic Dog Toothpaste. This toothpaste is made with a unique and organic blend of ingredients, all specifically formulated to be tasty and healthy for your dog. With a base flavor of cinnamon and sweet potato, you'll get sweet kisses from your pup in no time.
FEATURES AND BENEFITS
The added organic coconut oil whitens your dog's teeth and reduces bacteria that causes tooth decay

Safe and effective for canines of all ages

USDA certified organic canine toothpaste

No chemicals, preservatives, or dyes

No xylitol, chemicals, pesticides, GMOs, gluten, fluoride, saccharin, SLS, SLES, carrageenan, parabens, detergents, or synthetics
Looking for more preventative dental care? Check out K9 GRILLZ! They have been leading the efforts for the standardization of non-anesthetic dentistry, and offer dogs and cats a highly effective, comparable, and safe alternative to traditional dental cleaning procedures.