March kicks off the beginning of kitten season, and Healthy Spot is celebrating all of our feline friends! Whether you're a new cat parent or expanding your cat family, we want to help prepare you for an easy and stress-free transition for your new fur-ever friend.
Start Off By Feeding Them Right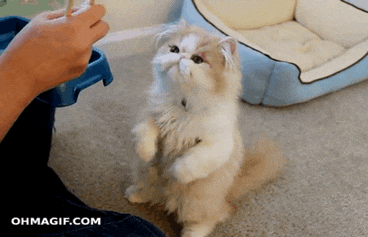 Cats are picky eaters. This can make it a challenge to find the perfect food that is both nutritious and delicious. With an instinctive aversion to water, cats naturally do not drink as much water as they should. This causes dehydration, which can negatively affect their kidneys, urinary tracts and even their teeth. To add moisture back into their diet, make sure they are receiving it from their food!
At Healthy Spot, we offer great raw recipes from wholesome brands that add moisture back into your pet's system. A great way to introduce frozen raw food into your pet's diet is with Primal Pet Food Feline Raw Pronto formula. This formula provides bite-sized raw pieces that thaw out in minutes, making it a breeze to start feeding raw.
If you prefer to feed something that is just as healthy but without being completely raw, raw alternatives are just as great! We carry freeze-dried raw dinners for cats by Stella & Chewy's, a brand that offers minimally processed food while feeding a biologically appropriate raw food diet. These also come in small bite-sized pieces, but we recommend adding warm water to them since freeze-dried is a drier formula.
Unsure about raw food in general, but still want to add moisture to your cat's diet? Wet food is also a great choice, with Fussie Cat being a Healthy Spot customer favorite! Fussie Cat's canned wet foods are made with your little carnivore in mind, meaning meat comes first in every recipe.
Want to learn more? Visit our nutrition experts at your local Healthy Spot and take home a variety of samples for your new family member to try! 
Pro-Tip: We also carry bowls from Necoichi that come with a small measurement marker, so you can see how much your cat is drinking every day.
Toys Are Important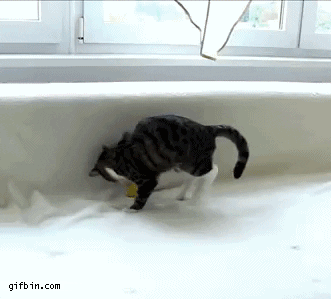 Your kitten or cat loves to pounce, stalk and grasp – it's part of their nature! Playing with toys provides a healthy outlet that teaches you about your new friend's personality and builds a stronger bond between the two of you. Dallas, Healthy Spot's Merchandising Manager (as well as our resident cat expert!), also recommends using toys to play with your cat rather than using your hands. Using your hands to play forms a bad habit of biting and scratching people's hands, which may not be the best when you have guests or children around.
For toys, cats tend to enjoy objects that move quickly and in an unpredictable manner. This is because it resembles small prey they would hunt in the wild. At Healthy Spot, we offer great toys to choose from! Reward your cat with Be One Breed's Dino Dispensers. These toys get your kitty to "hunt" for their food and makes them feel accomplished when they retrieve it. They also help cats that require weight management by slowing down their intake while encouraging physical activity.
We also carry great toys by Snow Leopard, a brand that prides itself on their handmade toys that are made from 100% sheep wool. Some cats prefer this style since it resembles life-like prey they can pounce on and play with on their own. If you are looking for something with catnip, Housecat Club and Foggy Dog are two brands that offer adorable designs filled with organic catnip. Housecat Club offers one-of-a-kind, vegan, handmade toys created from recycled materials that come in the shape of bananas, pizzas and anything in between! From Foggy Dog, we carry similar designs filled with organic, premium catnip that pets adore! Lastly, we also carry a rope toy from CocoChew. This brand's rope toy is made from coconut fiber cats like to paw and scratch. We suggest exploring a wide variety of toys to see which one your new family member likes best!
Protect Your Furniture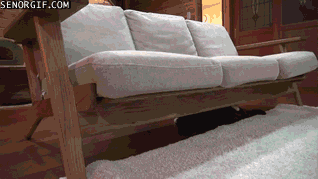 Cats love sinking their claws into pretty much anything! But why? Scratching removes layers of worn claws, helps them mark territory, stretches their muscles and even relieves some of their stress. Rather than finding out the hard way, have a scratching post or condo ready in your home or else you'll see your new couch become your cat's favorite spot to groom their claws. Instead of just having one, our cat expert, Dallas, recommends having a few around the house. This provides comfort for them in any room they wander into and helps them relieve their need to "mark" territory with the scent glands on their paws. At Healthy Spot, we carry a variety of scratchers and cat condos including some customer favorites:
Vespers – These cat furniture pieces are a great addition to any home! They come in neutral colors to match with the décor in every room of your home. They also have scratchers built in, soft laying spots, and holes for your kitty to hide in.
Huts & Bay Cat Diamonds - Looking for something a little more unique? These diamond-shaped homes offer a cool place for your cat to hang out in while becoming the statement piece in any room. They are made from tough cardboard, so your cat still gets to enjoy their love for boxes without destroying it! These diamond tents also come with a comfortable cushion inside, easily making it your cat's favorite place to hide.
Necoichi Cozy Bed –Cats love to stretch and sleep in these beds because they curve inwards! The pad itself is reversible so when one side is finished, you can flip it over and reuse it.
Another thing to keep in mind - cats shed...a lot. You can easily save your furniture from fur by simply covering it with fleece blankets or fabric that cats love so much. Just don't leave out your clean laundry because they'll choose that over anything else!
Choose The Pawfect Litter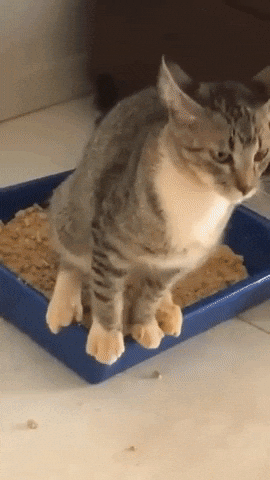 With so many litters to choose from, we know it can be difficult to select what's best for your cat. At Healthy Spot, we've taken out the guesswork for our customers with these recommended favorites:
BoxiePro Litter – This litter is made from clay that clumps up which makes it easier to clean and reduce any smell. Each piece of litter is coated with a probiotic that's specifically designed to eliminate 100% of the harmful and foul bacteria produced by cat waste. This cuts down on germs in the house, both in the box and on any litter tracked outside of the box. However, this litter is best for older cats since kittens 8 weeks and younger tend to eat their litter.
Cateco – This litter box is truly one of a kind! It's designed with air circulation technology that neutralizes odors by allowing air to flow around the top and bottom of the box, so litter never stays wet or clumps at the bottom! Any liquids that reach the bottom of the box go through the Aerator Mesh and are absorbed in the Cateco®Dry-Pad, placed in the lower part of the litter box. Cateco makes cleaning your pet's mess a breeze and will reduce any odor in your home caused by cat waste!
Pro-Tip: Be One Breed makes replaceable scratch pads for their Katt3 Cubes. These have a sticky backing and can be placed on the wall outside your litter box. Cats will instinctively head to the scratcher after using their box, which will help clean the litter off their paws and cut down on them tracking litter through your home!
Training is Essential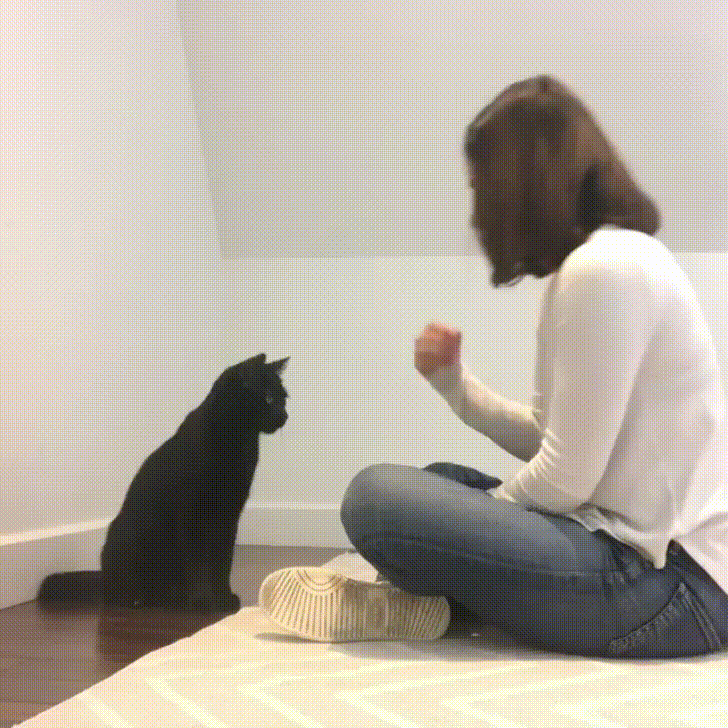 Setting rules in the beginning is crucial for a harmonious relationship between you and your kitty. Cats are known to be mischievous, but what people don't really talk about is why they behave like that in the first place. Rather than punishing them, try to solve why your cat is acting a certain why. For example, if they are not using their litter box when they go, ask yourself why they would do that. Do you need to clean it more often? Do they prefer an open box? This takes creative thinking since you must analyze the situation and figure out a way to prevent your pet from continuing this behavior. It takes patience, but we're pawsitive you'll figure it out!
Add Identification
Even if you plan on keeping your cat indoors, make sure to tag your cat! By adding a collar with your contact information, you are reducing the likeliness of losing your best friend if they bolt out the door one day. If you have a big home or are choosing to let your cat explore the outdoors, we suggest adding a small bell to their collar, so you can always hear them and know they are nearby. This also helps warn birds that your cat is coming so they don't become prey!

We're excited you decided to bring a kitten or cat home! We hope these six essential tips help with the transition of having a new furever friend. Have questions about any of the topics or products mentioned? Email us at help@healthyspot.com or visit your local Healthy Spot today!