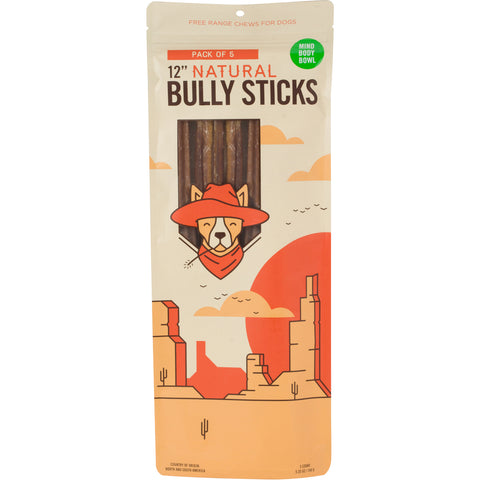 Mind Body Bowl
MIND BODY BOWL 12" Bully Stick (5 pack) Dog Treats
DETAILS
Your pup's favorite bully sticks now come in convenient 5-packs! Available in 6" and 12" sizes, our fully-digestible, single-ingredient bully sticks are perfect for keeping your dog busy and happy. They're the treat that almost every dog loves!  Our Healthy Spot MIND BODY BOWL Bully Sticks are hand-cleaned for minimal odor. We've bundled up your favorite sizes so that you can buy and save.
FEATURES AND BENEFITS
Ultra clean
Made in small batches
Made in artisanal brick ovens to increase flavor
Highly palatable
Grass fed, free roaming bulls
Preservative and chemical free
Fully digestible
Helps maintain oral care and exercise when given at least twice a week
Please provide plenty of fresh water when giving any chew or treat. Because this is a natural treat, its sizing, color and appearance may vary this is normal. You may also notice a natural scent and oil while your pal chews; this natural oil may stain your furniture, carpeting or other surfaces. To prevent injury and choking hazard, please watch your pet while they enjoy this treat and be sure to choose the appropriate size chew. If this product gets to a size where the dog could swallow it and/or if it splinters or develops sharp edges, throw it away immediately for your pet's safety.